About Meeting Point Counseling
I created Meeting Point Counseling as a place to share counseling-related materials and resources. My mission is to create a free, thriving world by bringing people together to connect in integrity and growth. The Meeting Point Counseling logo reflects that mission. It combines the treffpunkt, the international sign for a meeting point, and overlapping circles to represent the intersections of people, cultures, identities, values, and more.
About Michael A. Miller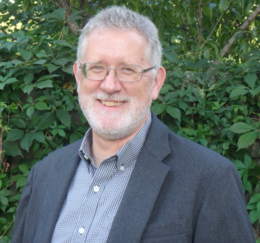 I am licensed as a professional counselor in the state of Ohio where I see clients in person and via telehealth at Crossroads Health. I have experience and training in trauma, addictions, working with survivors of sexual abuse, including male-identifying survivors, acceptance and commitment therapy (ACT), career counseling, and with in-person and telehealth counseling. I have worked with individuals and groups from many cultures and countries from around the world, both as a counselor and in my previous career, which spanned the sciences, medicine, and engineering. My experience working in varied environments provides me with first-hand knowledge of the many challenges and opportunities people encounter in these areas.
While my work has brought me to many places around the world, my home remains in the Great Lakes region. I currently reside near Cleveland, Ohio.
Professional Memberships and Ethics
I am a member of the American Counseling Association, the Ohio Counseling Association, the Association for Contextual Behavioral Science, and follow the American Counseling Association Code of Ethics.
Consulting
If you have an idea for improvements to these tools, would like to use a different set of values cards, are interested in custom tools for your website or practice, or are interested in connecting, please contact me at the address below.